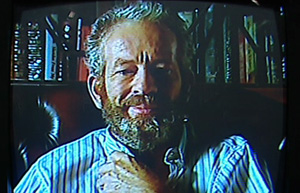 Arthur Edward Dunglass Snr. (2000)
Peter Sumner
Episodes: 2860
Children: Edward Dunglass
Marital Status: Judith Ackroyd
---
Following Edward Jnr's diagnosis of Huntingdon's, Judith gave Edward a tape that his father, who had died of Huntingdon's when Edward was only a small child, had left for him.
Edward watched the video where his father told him him to live whatever time he had left to the full and after watching the video, Edward decided that he wanted to go travelling and after initial concerns, Judith finally relented.
Judith then continuously watched the video, having never seen it before.