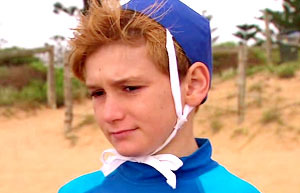 Jamie Cooper (2008)
Shardyn Fahey-Leigh
Episode: 4650

Parent: Julie Cooper
---
When Jack was roped into coaching the Nippers, Julie assigned him to a group sub-juniors which included her son, Jamie. Jamie was clearly reluctant to go in the water and told Jack it was because he was scared of stingers. Jack told him there were no stingers but Jamie said he was stung last time. Jack then offered to go in the water to make sure it was OK but the other boys made fun of Jamie.
Because Jamie still wouldn't go in the water, Jack suggested a beach sprint. Jamie won the race and it seemed to restore his confidence. The boys then pushed Jack in the water to celebrate.
Julie thanked Jack for helping Jamie and said Jack would make a great dad one day.