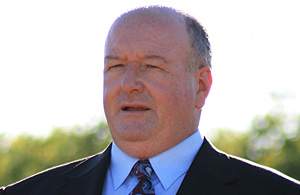 Martin Bartlett (2008-2009)
Bob Baines
Episodes: 4572 – 4953
Occupation: Principal of Summer Bay High School
---
Martin was first seen when Sally introduced him as the new vice principal at the start of year assembly. When she was in hospital though it was left to Martin to organise Dan's memorial and when Aden organised a public protest the beach Martin went over Sally's head and put the whole school on detention. With Roman offering Aden a way out, he approached Bartlett with a compromise that made them both look good and the Department was so impressed they decided to replace Sally with Bartlett.
Now as Principal Bartlett hired Jazz Curtis as his secretary and Miles Copeland as a new teacher. Though seeming to be incredibly strict he supported Miles in holding a farewell concert for Sally. He pulled him up though for allowing Cassie to talk to the students about HIV and he reacted furiously at Miles though when it was revealed that Miles had set an unsuitable text as the reading list.
With the P&C, led by Christine Jones, up in arms about the book, Bartlett refused to support Miles, openly sitting on the fence. When Jazz saw him at an illegal fight ring though she attempted to use it to blackmail him into supporting Miles but he stood his ground and fired her, calling her bluff. Found out by Miles, Jazz never told anyone about the fight ring. At the P&C meeting orag managed to get Miles off the hook and Bartlett brushed the whole incident under the carpet.
Despite her having little or no qualifications he hired Kirsty as his school secretary and overlooked incidents such as her having no computer skills. When she broke down and confided in him about her money situation he lent her money and he admitted he admired her, his own mother was a single parent too.
His attentions towards her started to get unprofessional as he increasingly kept her behind, forcing her to share wine with him and giving her a massage. When she admitted she liked motorbikes he bought one to impress her but promptly fell off it hurting himself. When Kirsty took him home she was surprised to find his house so bare and he offered for her and Ollie to move in with him but Kirsty refused. She alter confronted him about his unprofessional behaviour and Martin apologised, embarrassed.
When he found out that Kirsty was dating Miles though his attitude changed and he issued her with a written warning after she appealed to him over letting a clearly unfit Melody back to school. When he later caught her stealing money from the school petty cash box he fired her but a talking to from Miles made him realise he was acting unprofessionally and he offered her her job back. Kirsty refused though, determined to stand on her own two feet but she asked him for a reference and was surprised to find that it was glowing.
At the hospital charity ball Kirsty and Bartlett were both horrified to discover that they were each other's dates with Bartlett having used an escort agency and he offered her money to help her out but Kirsty refused, insisting that he simply pay her for what he owed her. When Miles found the money in her bank account though he confronted Bartlett who thought that Kirsty must have told Miles about being an escort, promptly landed her in it.
When she later told him about her reunion with Miles, Bartlett took it well and even offered her her old job back.
Soon after she left once more and Bartlett hired a temp to replace her but she returned to town asking for her job again and seeing how committed she was, Martin gave her a part time job. He almost came to regret his decision when she was accused of having a sexual relationship with a student Trey Palmer. Though admitting to Miles that he thought she was innocent, Bartlett warned her to stay away from Trey, an instruction she ignored. With no choice but to mount a department investigation Martin had his hands tied but was relieved when Trey eventually admitted the truth and the charges were dropped.
Miles confided in Martin about Claudia's pregnancy and he told Geoff he would provide any assistance he needed to stay at school. After Trey had humiliated Nicole by showing the town a video of them having sex, his stepfather John suggested to Martin that the school could handle the discipline. Both Martin and Nicole agreed that Trey could apologise to her in front of the entire school but Jai turned the incident into a riot. Ruby and Annie presented Martin with a petition asking that Trey be banned from the memorial trek for Dan, after John had offered to accompany the trip as driver to keep an eye on him. Martin asked Nicole if she was comfortable with him attending and she said no but when she later changed her mind Martin gave permission for him to accompany them.
Unfortunately, the trek turned out to be a disaster for everyone involved. Jai and Annie went missing and Martin made an unsuccessful attempt to find them with Miles and John. After they'd been missing overnight, Martin decided he and Miles would continue the search while everyone else returned to town. By the time they found the pair, Jai was seriously ill as a result of an earlier wound becoming infected but, with help from Alf and Geoff, they managed to get him to hospital in time. Martin then returned to Summer Bay to discover that the bus carrying the rest of the group hadn't returned, prompting him to alert the police, and it was later discovered Trey had attempted to blow the vehicle up.
He later expressed his concern to Irene that Geoff was frequently failing to turn up to school and was disappointed when he chose to drop out. By the end of the year, Martin was feeling drained and felt he needed a break. Having put all the preparations in place for the HSC, he requested long service leave so he could go on a cruise but was told he needed to find someone to fill in as principal first. He offered the job to Miles but he turned it down. Tony suggested Gina could fill in as science teacher and Martin agreed to give her an interview. Even though she admitted to her lack of recent experience and that she'd struggled as principal before, Martin was impressed by her honesty and commitment to the students and ended up appointing her acting principal.