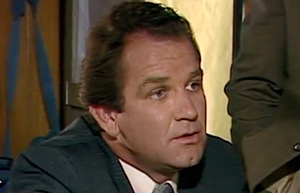 Detective Hunt (1990)
Kim Knuckey
Episodes: 470-484
Occupation: Police Detective
---
Detective Hunt took Donald Fisher in for questioning when it transpired that he may have been responsible for the death of Shane Wilson. Hunt was surprised that after so many years, Donald had still kept the gun that could have killed Shane, but Donald explained that he thought keeping it may help prove his innocence if the issue ever came to light.
A few days later Hunt arrived at Fisher's house, telling him that the ballistics experts had examined the gun, and it was not the gun that had killed Shane. Unfortunately Fisher was not off the hook as Hunt asked him whether it was possible he may have given him the wrong gun for testing. Fisher remained convinced that he was innocent as he had never been in possession of another gun and only had one because it was a present from his father-in-law. Hunt later warns Bobby to stop threatening Simpson, believing it could jeopardise Donald's case. This wasn't the last time Hunt had words with Bobby as her and Matt continued trying to prove Simpson's guilt.
When Simpson abducted Sophie and they hid out in an abandoned beach hut, a childhood memory made Bobby realise where the pair were but Simpson then kept her and Matt hostage when they turned up hoping to take Sophie. Detective Hunt was very pleased to arrest Simpson, having overheard his confession to killing Shane in a conversation with Donald, Bobby, Matt and Sophie.
He bears a striking resemblance to Senior Constable Darren McGrath who appeared 15 years later.