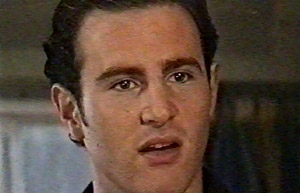 Sean Graham (1997)
Anthony Engelman
Episodes: 2120-2122; 2129-2130
Marital Status: Lisa Graham
---
Following Lisa's arrival in Summer Bay, she was soon followed by her husband Graham to the bay. Sean then held Lisa in a caravan overnight and the next morning for Stephanie's funeral, never let her out of his sight.
After beating up Lisa, she agreed to leave with him. Whilst saying goodbye to Lisa's friends at the caravan park. Whilst there, Curtis noticed the bruises Lisa had gained and gave chase on his bike. Sean tried brake-testing Curtis in an effort to make him crash, but only succeeded in allowing Lisa to escape. However Casey told Sean where Lisa was hiding (at Travis') and for a second time, against her will, Sean abducted Lisa.
A couple of weeks later after Lisa had again returned to the bay, Sean followed her and started demanding that she comes back with him again. After another angry exchange, this time in front of Alf and Ailsa, Sean was chased out of town and never seen again.