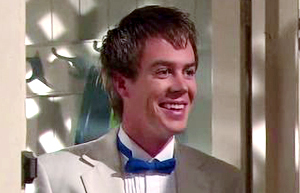 Sean Evans (2007)
Burgess Abernethy
Episode: 4547
Occupation: Student
---
Sean was a student at Summer Bay High who asked Cassie to the school formal. In a moment of weakness after Henk left town, Cassie accepted Sean's invitation. This was a decision which she later started to regret when he began texting her every two minutes and telling the whole school about their date. Ric also didn't help matters when he referred to Sean as 'Mr Tonkatron' and the 'Summer Bay Nerd Burger'!
Sean arrived at the Summer Bay house to pick Cassie up in a white suit and blue bow tie, much to Sally and Mattie's amusement. He seemed over the moon to be taking her but, as they posed for photographs, Cassie looked less than impressed with the situation. Their date did not improve when Cassie and Tam spotted that he was wearing make up, which he said his sister advised him to do. Cassie then decided to try and avoid him which drove Sean to start drinking alcohol.
When Sean won the 'Bill Gates Award for Excellence in Being a Cyber Geek' he fell off the stage when collecting the award. He then kissed a shocked Cassie on the cheek and thanked his mum and dad for giving him his first PC when he was 5! Luckily his speech was cut short by a power cut, courtesy of Aden. In the dark a drunk Sean then fell on a table of food, as well as Izzy Harkins! When the party restarted, Cassie dragged Sean away and asked him where he got the alcohol from. He said his sister gave it to him, which led Cassie to comment that maybe he should have come with her instead. Sean was last seen vomiting on Cassie!
Profile thsnks to Karena.