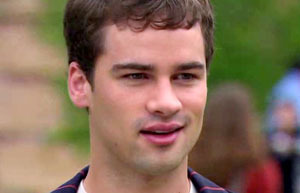 Nathan Cunningham (2008)
Andrew Lees
Episodes: 4682 – 4689
Occupation: University Student/Residential Advisor
---
Nathan was first seen knocking on Mattie's door at Uni. It was obvious that he had taken quite a shine to Mattie and offered to help her with anything she needed help with. Later, he invited her to a party and she agreed. When Nathan popped around to Mattie's room, her roommate Daisy was going out but Mattie's phone rang and Nathan answered it. It was Ric and he wasn't too impressed to hear Nathan's voice. Mattie didn't end up going to the party with Nathan as she was still pining for Ric.
A few days later they went to a party together and came home to find Belle had emailed some pictures from Morag and Ross's wedding. When Mattie mentioned that Ric was in one of the photos, Nathan remembered about the phone call from Ric. Mattie wasn't impressed that he hadn't told her about it and said that she was going to bed to get rid of Nathan. The next day, Mattie apologised for overreacting and Nathan also apologised and invited her to see his friends band play.
The next week Nathan turned up at Mattie's room drunk and tried to get her to go to another party as he said he was missing her. She declined and he took the hint and finally left. The next day Nathan was hungover and embarrassed about the previous night. He apologised for his behaviour and later on that night Mattie asked him if he wanted to get a bite to eat.
The next morning Nathan was sleeping in Mattie's bed and Ric turned up at the door. Mattie tried to explain that it wasn't what he thought it was but an upset Ric left. After Mattie and Ric had a fight about it, Nathan saw Mattie and told her that High School romances never work and she should move on. He also added that she deserved better than Ric. Mattie took offence at this and said that he doesn't know Ric and she wanted to be left alone.