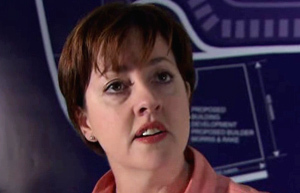 Judy Craig (2008)
Gail Knight
Episodes: 4737
Occupation: Development Site Administrator
.
---
Judy was the wages clerk at the construction site and was first seen when Aden went to her to query his pay. Judy told him that the person she needed to speak to was on the phone and asked him to come back. Whilst he was there he saw plans of the development containing a previous unseen shaded area and watched Judy file them away.
He returned later to ask again and Judy went into the other room to make a phone call. While she had her back turned he pocketed a copy of the plans and she returned to the office telling him his pay had been resolved. Moments later Tim Coleman entered the office for the plans but realised there was one missing. Judy insisted she copied the right amount and Tim sussed that Aden must have taken it.