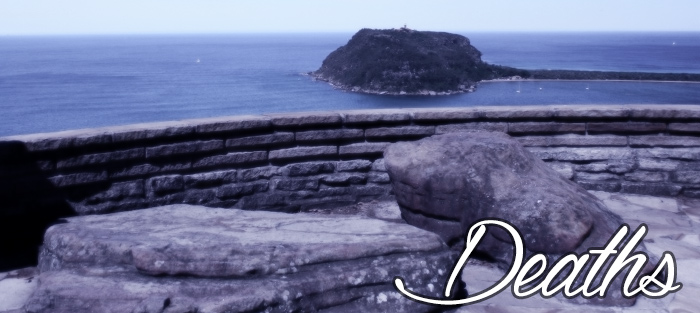 It's often said that Summer Bay must be one of Australia's most dangerous towns, what with the number of natural disasters and it's high mortality rate. Though perhaps if you became a full term resident of the bay, you'd find yourself making it to a ripe age. Unlike the Births and Marriages lists, over three quarters of the deaths in Summer Bay have actually been those of guest characters.

Here we list all those who have died in and out of Summer Bay - an entry shaded in green denotes a character was part of the main cast, either at the time of their death or during a previous tenure.
Kerry Barlow
Episode 65
1988
Accidentally shot in a siege by her husband Sam Barlow
Alan Fisher
Episode 160
1988
Brain aneurysm
Gary Samuels
Episode 212
1988
Fell from a cliff whilst playing a prank on Carly
Philip Matheson
Episode 293
1989
Died in a fire at Celia's store started by Dodge
Andrew Foley Snr.
Episode 302
1989
Emphysema
(off-screen)
Rory Heywood
Episode 438
1989
Shark attack
Tom Fletcher
Episode 525
1990
Heart attack at the wheel of his car
Alec Gibson
Episode 772
1991
Heart attack
David Croft
Episode 838
1991
Car accident caused by Karen Dean
Meg Bowman
Episode 975
1992
Leukaemia
Dale Ross
Episode 1221
1993
Sudden Infant Death Syndrome
Bobby Marshall
Episode 1304
1993
Head injuries sustained in a speedboat accident
Laura Bonetti
Episode 1665
1995
Hit by a train whilst running over a level crossing
Seaplane Pilot
Episode 1716
1995
Injuries sustained in the seaplane crash
Milan Krajacek
Episode 1716
1995
Injuries sustained in the seaplane crash
Coral King
Episode 1722
1995
Stroke (off-screen)
Murdoch Roberts
c. Episode 1764
1995
Murdered by Dodge by a blow to the head (off-screen)
Elizabeth Clarke
Episode 1785
1995
Terminal illness
Rick
Episode 1813
1995
Extradural haemmorhage after a car accident
Shane Parrish
Episode 1878
1996
Septicemia
Peter Moss
Episode 1888
1996
Car accident
Michael Ross
Episode 1912
1996
Drowned in the river after saving Sam Marshall
Colin Parker
Episode 1973
1996
Shot by Max Richards after being framed as Chloe's rapist
Stephanie Mboto
Episode 2120
1997
Fell off a cliff
Isobel Dupré
Episode 2138
1997
Cancer
(off-screen)
Wendy Bachelor
Episode 2151
1997
Died in the fire at Saul's commune
Cathryn Barnes
Episode 2210
1997
Car accident
(off-screen)
Saul Bennett
Episode 2267
1997
Shot by Constable Terri Garner
Kylie Burton
Episode 2439
1998
Drug overdose in jail
(off-screen)
Brian Matthews
Episode 2548
1999
Fell off a building whilst graffitting
Ruby Collins
Episode 2628
1999
Shaken Baby Syndrome, as a result of her father's abuse.
Lachie Fraser
Episode 2644
1999
Brain hemmorhage in the US
(off-screen)
Byron Fisher
Episode 2753
1999
Liver Cancer whilst receiving treatment in the US
(off-screen)
Charlie Nicholas
Episode 2800
2000

Compartment Syndrome following a car accident
Sarah MacKay
Episode 2837
2000
Drowned whilst sheltering in a stormwater drain
Ken Smith
Episode 2885
2000
Crushed underneath a car when a jack slipped
Alicia Campbell
Episode 2909
2000
Fell off a cliff
Gavin Campbell
Episode 2921
2000
Crushed in the Stewart House during the mudslide rescue operation
Ailsa Stewart
Episode 2960
2000
Heart attack
Dennis Scott
Episode 2980
2000
Committed suicide in his car
(off-screen)
Anna Miller
Episode 3085
2001
Leukaemia
Miles Alcott
Episode 3180
2001
Car accident
Charlotte Adams
Episode 3357
2002
Complications following a near-drowning
Grigg
Episode 3409
2002
Found dead in Don Fisher's car after stealing it.
(off-screen)
Angie Russell
Episode 3490
2003
Fell and hit her head during an argument with son Dylan
Troy
Episode 3503
2003
Drug overdose
Matt Owen
Episode 3616
2003
Motorbike accident after stealing Noah's bike from Seb
(off-screen)
Eloise Lennox
Episode 3641
2003
Leukaemia
Sue Campbell
Episode 3685
2004
Murdered by her husband whilst diving, made to look like an accident. (off-screen)
Felix Walters
Episode 3764
2004
Accidental Crystal Meth overdose by Sarah Lewis
(off-screen)
Noah Lawson
Episode 3805
2004
Shot by Sarah Lewis
Sarah Lewis
Episode 3805
2004
Shot herself after killing Noah
Viv 'The Guv' Standish
Episode 3852
2004
Heart Failure
Owen Dalby
Episode 3857
2004
Heart attack during a fight with his son Ric.
(off-screen)
Zoe McCallister
c.Episode 3871
2005
Revealed in 3952 to have been killed by Eve Jacobsen, who took on her identity.
(off-screen)
Benny 'Red' Barron
Episode 3890
2005
Seaplane Crash caused by the Summer Bay stalker
Marc Edwards
Episode 3930
2005
Beaten with a crowbar by the Summer Bay stalker
Laura McPherson
Episode 3953
2005
Body found after the warehouse explosion, wrongly identified as Eve Jacobsen
Joy Foxton
Episode 3947
2005
Stroke
Jim Wallace
Episode 3967
2005
Found dead in a river before he could give a statement about Josie's past (off-screen)
Chloe Richards
Episode 4001
2005
Embolism after a car accident
Leo Simms
Episode 4034
2005
Fell and hit his head whilst holding onto Amanda's car
Alison Free
Episode 4050
2005
Car accident
(off-screen)
Flynn Saunders
Episode 4121
2006
Stage 4 melanoma
Graham Walters
Episode 4135
2006
Life support turned off by Robbie Hunter following a heart attack
Josh West
Episode 4150
2006
Accidentally shot in a struggle with Barry Hyde
Doris McKinnon
Episode 4199
2006
Accidental overdose of morphine given by her grandson Charlie
Eve Jacobsen
Episode 4211
2006
Injuries received in the barn explosion
Tracey Thompson
Episode 4211
2006
Injuries received in the barn explosion
Elaine Armstrong
Episode 4212
2006
Heart attack following the barn explosion
Emily Armstrong
Episode 4274
2006
Acute Myeloid Leukaemia
Dennis Gillen
Episode 4296
2006
Shot by Peter Baker
Rocco Cooper
Episode 4347
2007
Embolism after being beaten by Johnny's henchmen
Clyde Dale
Episode 4370
2007
Head injury during a struggle with Ethan Black
Beth Hunter
Episode 4401
2007
Car accident
Shane Deeks
Episode 4468
2007
Car accident after a high speed police pursuit
Lisa Duffy
Episode 4491
2007
Head injuries sustained in car accident during a drag race
Bruce Campbell
Episode 4525
2007
Heart attack
Colin Marshall
Episode 4532
2007
Shot by George Watson
Rev. John Hall
Episode 4574
2008
Brain Tumour
Dan Baker
Episode 4579
2008
Abseiling accident in the US
(off-screen)
Johnny Cooper
Episode 4590
2008
Potassium overdose after Sam Holden sabotaged his syringe
Sam Holden
Episode 4610
2008
Heroin overdose (suicide)
Axel Hay
Episode 4680
2008
Knocked off his scooter by Larry Jefferies' car
Arthur Clay
Episode 4728
2008
Stroke
(off-screen)
Joe Morton
Episode 4738
2008
Virus whilst fighting Bone Cancer
(off-screen)
Eric Nobbs
Episode 4766
2008
Murdered by Tim Coleman at the development site
Jack Holden
Episode 4770
2008
Shot accidentally by Angelo Rosetta
Audrey Long
Episode 4799
2009
Stroke
(off-screen)
Lou de Bono
Episode 4848
2009
Shot by Derrick Quaid & thrown overboard by Hugo Austin (seen in flashbacks in 4996)
Belle Taylor
Episode 4916
2009
Bowel Cancer
Grant Bledcoe
Episode 4942
2009
Stabbed by Ross Buckton
Larry Jefferies
Episode 5035
2010
Car accident (seen in flashbacks in 5065)
'Killer' Smith
Episode 5090
2010
Shot by Snr Detective Eaves in custody
Hayley Doven
Episode 5115
2010
Postpartum Hemmorhage
Mitzy Fraser
Episode 5179
2010
Stroke brought on by brain tumour
Penn Graham
Episode 5185
2010
Stabbed by Will Smith
Ross Buckton
c.Episode 5216
2011

Alzheimer's disease
(off-screen)

Thabo Manthenga
Episode 5256
2011
Cardiac arrest following a heart operation
Tegan Callahan
Episode 5379
2011
Injuries sustained from car accident during the great storm
Harman 'Hammer' Pirovic
Episode 5386
2011
Shot by Charlie Buckton
Charlie Buckton
Episode 5437
2012
Shot by Jake Pirovic
Stu Henderson
Episode 5444
2012
Head injury after being pushed by Sasha Bezmel in self-defence (seen in flashbacks in 5466)
Liz James
c.Episode 5529
2012
Drug overdose (body discovered in 5531)
Danny Braxton
Episode 5585
2012
Shot by Casey Braxton
Rocco Scott-Braxton
Episode 5620
2012
Sudden Infant Death Syndrome
Gina Palmer
Episode 5725
2013
Brain aneurysm
Romeo Smith
Episode 5845
2013
Stage 4 melanoma
(off-screen)
Ethan MacGuire
Episode 5886
2014
Injuries sustained in hospital bomb explosion
Jess Lockwood
Episode 5955
2014

Stage 4 Chest & Bone cancer
(off-screen)
Casey Braxton
Episode 6052
2014
Shot by Jake Pirovic
Jake Pirovic
Episode 6066
2014

Life support turned off by Andy Barrett following a car crash
Dean Sanderson
Episode 6110
2014
Blow to the head by Sam Kennedy
Bus Driver
Episode 6121
2015
Injuries sustained in a bus crash caused by Sophie Taylor
Tom Knight
Episode 6178
2015
Heart failure
Denny Miller
Episode 6281
2015
Blow to the head during a tussle with Charlotte King
Trystan Powell
Episode 6322
2015
Run over by Charlotte King
Charlotte King
Episode 6350
2015
Shot dead in a struggle with Josh Barrett
Oscar MacGuire
Episode 6416
2016
Crushed by a car following a caravan explosion
Hannah Wilson
Episode 6418
2016
Delayed extradural hematoma following a head injury sustained in the caravan explosion
Atticus Decker
Episode 6566
2016
Shot by a member of the Syndicate. Died in hospital the next day.
Billie Ashford
Episode 6597
2017
Lung cancer accelerated by smoke inhalation
Other Off-Screen Deaths
On rare occasions we learn that former main characters have died at some point off-screen in the past, only hearing about it a few years down the line.
Neville McPhee
c.1998
Heart attack
(off-screen, revealed in 2000)
Vinnie Patterson
c.September 2008
Farming accident
(off-screen, revealed in 2010)
Presumed Dead
Here we list those whose fates are officially unknown, but are likely to be deceased
Brian 'Dodge' Forbes
1995
Plunged into the sea during a clifftop struggle with Steven Matheson. After an extensive search he was presumed to be dead, but his body was never found.
Edward Dunglass
c. 2001-2010
(off-screen)
Edward was diagnosed with Juvenile Huntington's Disease back in 2000. With the average life-expectancy for a Juvenile HD sufferer being less than 10 years after diagnosis, it's sadly unlikely that Edward is still with us.
Tom Woods
2006
After being found to be working against Johnny Cooper, Tom mysteriously disappeared. Though Johnny later confessed to his part in Tom's disappaearance, his fate was never confirmed.