Art Scene
In this section of the feature, we hope to bring you up-to-date on the art scene
of the forum. Not only do we have many talented graphic makers, but also a lot of
developing artists that we think have the potential to go far with their artwork skills!

As you may have noticed, we have been taking suggestions on who YOU think
should be "Artist of the Month." In this section, you will find out who has won this
title.

We will also include graphics and icons which we think (and hope!) the members
will like. We will give you information on each icon and who made it.

We hope you enjoy this section. Happy reading!


'Sal on canvas'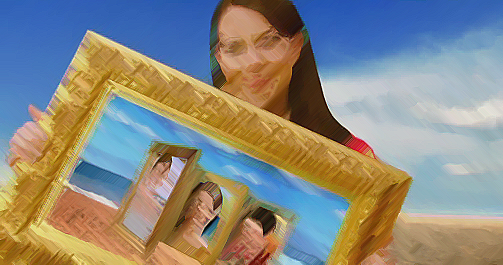 Probably one of the most expensive art pieces in the Home and Away world!

In this section, you will find the following:
- Artist of the Month
- Staff favourites
- Art news (contests etc.)

Artist of the Month

From the 15th of March to the 15th of April 2008, we asked your thoughts on who should be "Artist of the Month." We have received 11 votes. We would like to thank the people who voted. This page is for you!

The artist of the month is .......


xGlowingAngelx





"Amy's icon technique is quite unique. I think the colours are very well contrasted and the cropping is spot on! This is a fine collection of art! We would like to congratulate Amy for her achievement and we wish her the best in her icon-making career!" - (Cal)

"What can I say about Amy's Icons? Unique, gorgeous, bright, and artistic. All I can say is I want to know how she gets her colouring and cropping so perfect!" - (Cerise)
Staff Picks

On this page, you will find different icons which the staff like and think that should be on this page.

Cerise's Favourites

Artist: ~Dom~





Bttb-rox!'s Favourites

Artist: Emsan






Cal's Favourites

Artist: xGlowingAngelx







Contest News

Well, there isn't much to report here in the world of BTTB Art Contests. It seems that the Avatar Contest is the only popular contest here. What are we going to do?
Don't worry, we won't stop them. Plans are underway to open the Last Icon Maker Standing contest in the near future. This will hopefully be a success... again.

We are asking you guys to help keep these contests up and running. If you don't want to enter, then you can just vote. Voting in the contests still helps the popularity of them. Vote like crazy, people!